Kamuthanga: East Africa's first Eco Mark fish farm
Following a successful partnership with FoodTechAfrica, a Dutch-based NGO, Kamuthanga is the first fish farm in the region to receive the Eco Mark certification from the African Organization for Standardization (ARSO). Joseph Odhiambo, farm manager, explains how the farm has evolved.
When was the farm established?
The farm was established in 2013. Because this is a semi-arid area, where water is a big challenge, we were forced to establish a recirculating aquaculture system (RAS) using concrete tanks. It is a system that is used in areas with little water and limited space, but is capital intensive. The dirty water from cleaning the filter is used to grow plants, like tomatoes and spinach.
Kamuthanga Farm was the first fish farm in East Africa to gain ARSO certification from Ecomark Africa in 2019.
After some initial challenges we formed a partnership with FoodTechAfrica (FTA), a Dutch-based NGO. It is a consortium of different players in aquaculture value chain, so we had feed manufacturers, aquaculture engineers, fish biologists. They came to Kamuthanga and looked at our system. The efficiency was low, so they decided to introduce a more refined RAS, allowing us to increase stocking densities to 135 fish per square metre. This increased productivity by 20 times – from 5 to 100 tonnes per year.
What were the initial challenges when you began?
One initial challenge was availability of water. People underestimate the amount of water that is required in fish farming and we had to drill a borehole. RAS are also energy- and capital-intensive.
Another challenge was that we were initially farming in the open, but the concrete tanks are now indoors – security is increased, while predation by birds and biosecurity are also taken care of. We have more control of production because fish are very temperature sensitive. If the temperatures are low, it can take up to three years before you harvest the fish, but when we introduced a greenhouse environment, temperatures rose. A cycle was supposed to take one year, but we are now doing it in 4-4½ months.
Because we can control factors such as the water temperature, indoor fish farming also improves our ability to meet the demand of our market – restaurants, hotels, supermarkets. Before the partnership with FTA we didn't have much knowledge about RAS, so their training helped us a lot.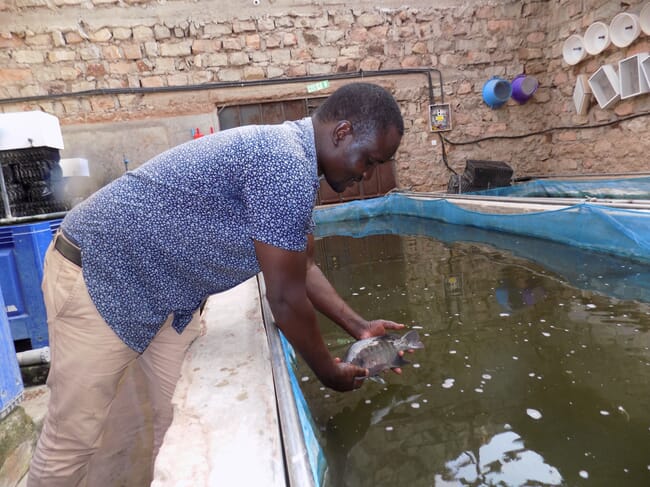 Which types of fish do you rear?
So we farm both tilapia and catfish. Some we grow to market size, some we sell as fry and fingerlings to other farmers.
Our genetics come from the Tilaqua in the Netherlands, where we source YY supermales as broodstock. These provide all male fish, which grow twice as fast as the females. They are quality breeds, which is why most farmers like our seeds. They also don't multiply, so there's no inbreeding and multiplication. Before that we were doing sex-reversal, using hormones, to create all male fish.
Where do you source your inputs?
Feeds account for around 65 percent of our cost of production and the price is generally going up. We import our feeds from Egypt, as these are cheaper and better quality than local feeds. Because we are using RAS technology, we need a specific feed quality, so that the filters are not overwhelmed.
For equipment: sometimes we import and sometime we buy locally.
What are the major challenges in day-to-day running of the farm?
The main challenge is the operation costs, like the cost of the feeds. Sometime feed availability. Another challenge is the rising cost of power. There are also policies that need to be addressed by the government, like control of Chinese fish, which are being imported at a very low price.
Thankfully we have our own niche: while the Chinese bring frozen fish, we supply fresh and live fish to the market. We are the only people who are able to supply live fish to Nairobi. Our biggest market is actually to supply live fish to the Chinese living in Kenya.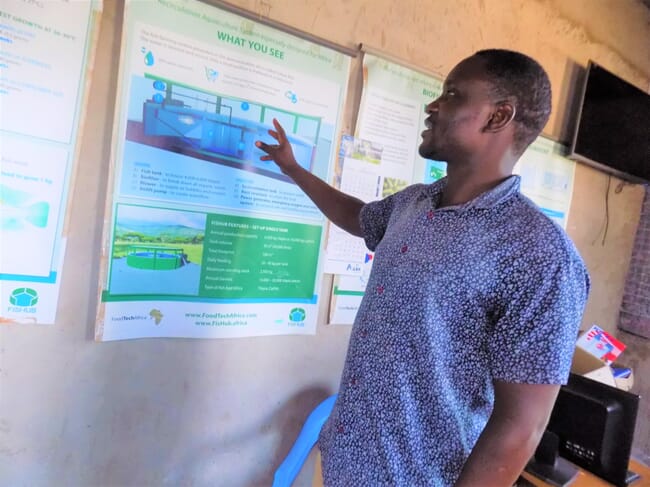 Who are the other key people in the farm?
There are 13 of us, including the hatchery manager, general manager, feeders, labourers to clean the filters and, of course, we need security. Security is key in aquaculture.
What is the significance of Eco Mark certification and what did you do to achieve it?
To comply with the standards you have to be audited and there are over 300 compliances you have to meet. It is also costly.
However, it is very important because, these days, people are very cautious about what they consume and most of our clients demand certification to have confidence in our products.
Besides the confidence, the standards help make your operation become environmentally, economically and socially sustainable. Traceability is also very important. You can trace the fish from the shelf all the way to the source and even identify the parents that produced the fish.
What are your plans to evolve in the coming years?
The plan is to double production to 200 tonnes per year by 2025. In a tank that right now we are producing 6,000 fish, we'd like to be able to produce 12,000. We also want to refine the system to reduce electricity consumption.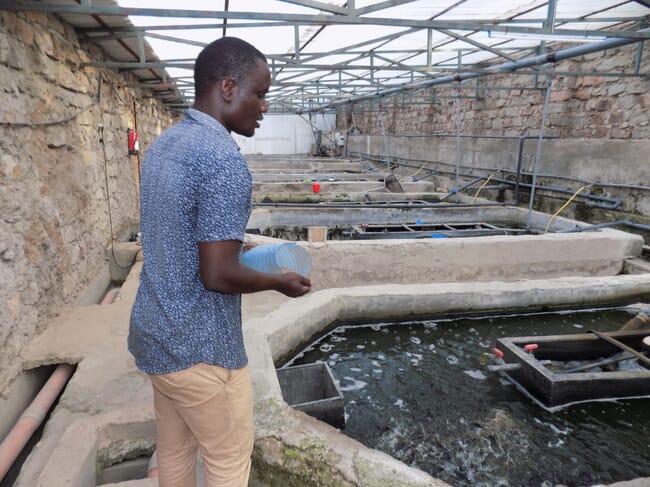 What advice would you give to other farmers?
The biggest mistake is stocking small fish into their ponds, which leads to survival rates as low as 40-50 percent. To avoid that, you need a nursery. This can be a small cage within a big pond where you can monitor them intensively before you release them to the main pond.
On our farm we transfer fish from the hatchery to a nursery after one month until they reach 30 grams, which is a safe size to transfer them and – if you do this – you should get a survival rate of over 90 percent.
What are your views on the future of the Kenyan aquaculture sector in general?
In Kenya, we have huge deficit of fish. We have demand for over 400,000 tonnes but we cannot meet that. At Kamuthanga we are doing a very small fraction of that.
For us to grow as a country we need to reduce the cost of inputs and improve training. But, once those are addressed I think we will be fine, because Kenya has a vast water resource.
Source: theFishSite
If you have a specific expertise and would like to contribute to AgriFocus Africa, please contact us at info@agrifocusafrica.com